School Chef of the Year 2017
Our school chef, Tracy Healy, has been named School Chef of the Year 2017. Tracy won the Yorkshire and Humber regional competition and went on to take the title after competing in the national final in Stratford Upon Avon on the 2nd March. Congratulations Tracy.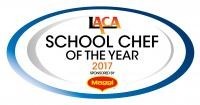 Tracy was voted Britain's No 1 school chef by a panel of judges at the National Final which took place on March 2nd at Stratford upon Avon College, Warwickshire. The competition is organised annually by LACA (Lead Association for CAtering in Education) and is sponsored by MAGGI® Professional from Nestlé Professional®.
Tracy's winning dishes were: Main Course: Lamb Kofta with Coconut Rice served with Flatbread and Mint Salad - spiced meatballs served with coconut rice, homemade flatbread & fresh mint salad. Dessert: Rhubarb Fool with Ginger Crunch - creamy rhubarb fool with ginger biscuit crunch. Amongst the ingredients used in her main course were MAGGI® Mash Potato Mix and MAGGI® Coconut Milk Powder. Tracy used Carnation Condensed Milk and Nestlé Shredded Wheat in her dessert.
LACA School Chef of the Year 2017, Tracy Healy, said: "I am so proud to have won the national title. With the skill amongst this year's finalists being so high, I felt it was an achievement in itself to compete with such a talented group of people. All of this just goes to prove what a good job school chefs do, day in, day out, up and down the country to provide tasty, nutritious meals for millions of children.