The Thrive Hub is a community initiative led by 22 schools in the Dewsbury area who want to give the children in their care the best start in life by working with their families and local community to deliver sustainable services, resources and support structures. Click on the logo to visit the thrivehub website: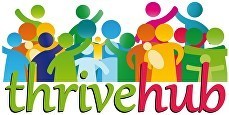 Thrive is made up of three clusters of schools: Thrive South, Thrive East and Thrive West.
We are working together as a whole and in our clusters to improve the opportunities available to our children while they are in our care. As we develop, we will be working hard to organise community activities, signposting the support available in our communities to our children and families, sharing best practice amongst our schools, working with external agencies to improve the resources available locally and helping our area "thrive".