The Food4Life programme is about making good food the easy choice for everyone – making healthy, tasty and sustainable meals the norm for all to enjoy, reconnecting people with where their food comes from, teaching them how it's grown and cooked, and championing the importance of well-sourced ingredients.
Food for Life is a Soil Association programme – find out more about who we are here. A wealth of information is available on our website, but if you can't find what you're looking for, please get in touch.
We have recently started the Food4Life Programme and are working hard to achieve our Bronze Award. More information to follow.
Our school chef, Tracy Healy, has been named School Chef of the Year 2017. Tracy won the Yorkshire and Humber regional competition and went on to take the title after competing in the national final in Stratford Upon Avon on the 2nd March. Congratulations Tracy.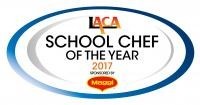 The Importance of a Good School Food Culture