News and Events
School Mobile App
Our mobile app now has 351 users. Thank you for all of the positive comments about how useful you are finding it.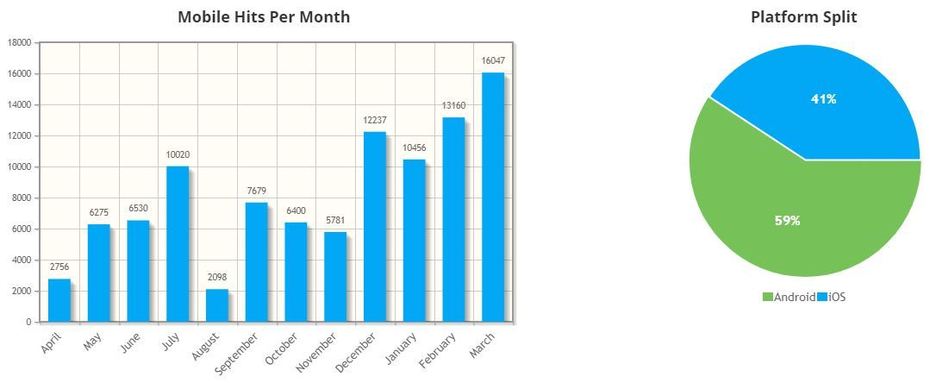 Huddersfield Examiner, January 2018

The Real Schools Guide, compiled by the Trinity Mirror Data Unit, gives parents a far more comprehensive picture than traditional league tables.

The in-depth guide takes into account no fewer than 44 different data points – including not just KS2 results but factors like progress, pupil-teacher ratios and absence rates.

So which schools come out top? The Greetland Academy in Calderdale is the best state-funded primary school overall followed in Kirklees by Ravensthorpe Church of England School in Ravensthorpe, Dewsbury.

Parents can go online to browse the full data, compare different schools, and find links to contact details and recent Ofsted reports.

The guide, now in its fifth year, has been praised by parents and education experts alike.

Dr Elaine McCreery, head of Primary Initial Teacher Education at Manchester Metropolitan University, said the guide could help parents make decisions about where to apply for or be useful for those with children already at schools to get involved and support the school.

| | | |
| --- | --- | --- |
| Rating | 2017 Rating | 2016 Rating |
| Overall Stars | 5 | 5 |
| Overall Score | 68.9 | 70 |
| England Rank | 439 (out of 14,624) | 824 (out of 14,459) |
| Local Rank | 1 | 4 |

To find out how we rate, click on the Real Schools Guide 2018 banner.
2017 SATs Progress Measures - December 2017
The progress our children made in reading and maths last year was in the top 10% of all schools in the country.
New School Kit - December 2017

Huddersfield Town Player, Jon Gorenc Stankovic, visited school in December to unveil our brand new kit. The kit is sponsored by the Premier League Primary Stars.
National School Meals Week - November 2017
L

ACA member, Karen Robinson, ran five marathons in five days spanning all ten LACA regions, powered only by school meals. On Thursday 16th November our school chef, Mrs Healy (the reigning LACA school chef of the year) joined her on the marathon which finished at our school. Mr Parkin and a group of children also joined in for the final part of the run. Our special guest for the day was Brian Robinson, the first Briton ever to win a stage in the Tour de France, back in 1958.
Children's Flu Immunisation Programme - 12th October 2017

On Thursday 12th October at 1pm, nurses from Locala Community Partnerships will be in school to carry out a flu immunisation programme. The programme includes all of our Year 3 and Year 4 children. All parents of children in Years 3 and 4 have been sent information packs and letters asking for their consent. If you haven't received your letter, please contact the school office on 01924 907082.

If you have any concerns at all about what is involved in the immunisation programme, please click on the link below which will take you to a short video about the vaccination.
School SIAMS Inspection - Outstanding - July 2017
All church schools are required to have a section 48, SIAMS inspection (Statutory Inspection of Anglican and Methodist Schools).
The principal objective of SIAMS inspection is to evaluate the distinctiveness and effectiveness of the school as a church school, and how well the distinctive Christian character and ethos of the school ensure the development and achievement of the whole child or young person.
This is evaluated through four core questions:
How well does the school, through its distinctive Christian character, meet the needs of all learners?

What is the impact of collective worship on the school community?

How effective is the Religious Education? (in VA schools and academies)

How effective are the leadership and management of the school as a church school?
Our latest inspection was held on Friday 14th July and we are pleased to report that the school was graded as outstanding in every category. Click on the link below to read the full report.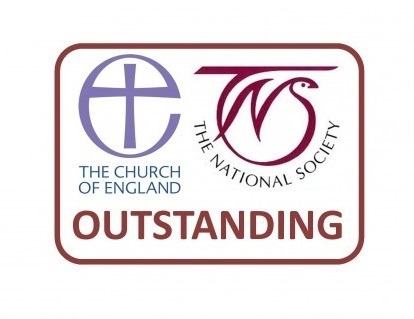 Chief Executive of Kirklees Council, Jacqui Gedman, Visit - May 2017

Jacqui Gedman, the Chief Executive of Kirklees Council, visited school in May. The video clip below shows her talking to our award winning chef, Tracy Healy.
Bishop Of Wakefield Visit - April 2017
The Bishop of Wakefield, Rt Rev Tony Robinson, visited school on Thursday 27th April. Bishop Tony had a tour of the building, met with children and staff and blessed our new Reception. He last visited the school in 1997.
Ofsted Inspection Report - April 2017

The report from our most recent Ofsted inspection is now available.

It praises the school's leadership, the progress made by pupils and the provision for children with special educational needs and disabilities. It states that:

"Pupils have superb attitudes to learning.

Behaviour in classrooms is focused and purposeful, and productivity is high."

Click on the link to see the full report.
Mobile App - April 2017
We now have a mobile app (for android and iphone/ipad). The app is free and can be downloaded from the Google Play Store and the Apple App Store - search for Ravensthorpe Junior School. You will need the app to receive important alert messages.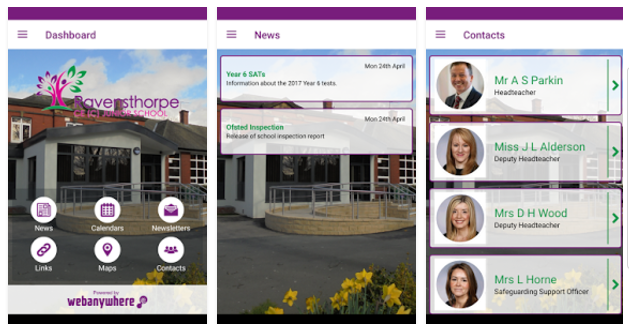 Healthy Bodies, Healthy Minds - March 2017

Did you know that the proportion of children who are obese doubles between Reception age and Year 6? We are introducing a number of initiatives to try to do something about this. The whole school is now working towards the Food for Life Bronze Award - please see the 'More' tab for more information about this. All of our Year 4 classes are also taking part in the 'Ready, Steady, Go' scheme. This is a series of four sessions based around healthy eating and keeping fit. The sessions are delivered by specialist sport and physical development activity staff and conclude with a presentation assembly for parents. Please have a look at the tips below.

Look at Change4Life for tips on how to become more active -

http://www.nhs.uk/Change4Life/Pages/be-more-active.aspx

Eat 5 fruit or veg a day – click on this link on how to make this a more achievable goal - http://www.nhs.uk/Livewell/5ADAY/Pages/Tips.aspx

Walk to school/park your car further from school – it's easier to find a parking spot as well as increasing the amount of activity done in the day.
Caution when treating head lice - March 2017
The following message is from the Claire Tabert at the West Yorkshire Fire and Rescue Service
'We would like to remind parents and carers to always read and follow the instructions carefully when using chemical insecticide products, typically sold in chemists, to treat head lice. This is because these treatments contain flammable elements. You should not therefore use hair dryers, or any other ignition source such as matches, lighters and candles near anyone during the treatment process whilst the product is being used. This advisory note follows a recent incident in West Yorkshire in which a child's hair was accidentally set alight during treatment resulting in the child sustaining serious injuries.'
Click on the image below for advice about treating head lice.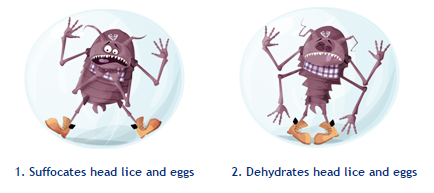 Latest News - 25th February 2017
Tracy Healy, from Ravensthorpe Junior School in Dewsbury, has been crowned LACA School Chef of the Year 2017.
Tracy competed against nine other Regional Champions in the National Final on March 2nd in Stratford Upon Avon.
Well done Tracy!
The LACA School Chef of the Year competition tests the chef's preparation, creativity, technical ability, presentation and most of all – cooking skills.
Each chef had to design and produce a healthy, balanced two-course meal for four people. The meal had to appeal to Year 6 pupils and be ready in just one and a half hours. A maximum cost of £1.30 per head was allowed for the cost of the main course and dessert for one child.
Click here to find out more about the LACA School Chef of the Year competition.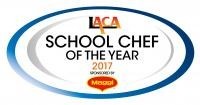 Musica - Kirklees Music School - 13th December
On Tuesday 13th December musicians from Kirklees Music School (now known as MUSICA) visited school and entertained us with an impressive performance of popular music - from the 1950s to the present day. It was great to hear live music being performed by professional musicians and the children had a brilliant afternoon.
Click on the image below to find out more about MUSICA.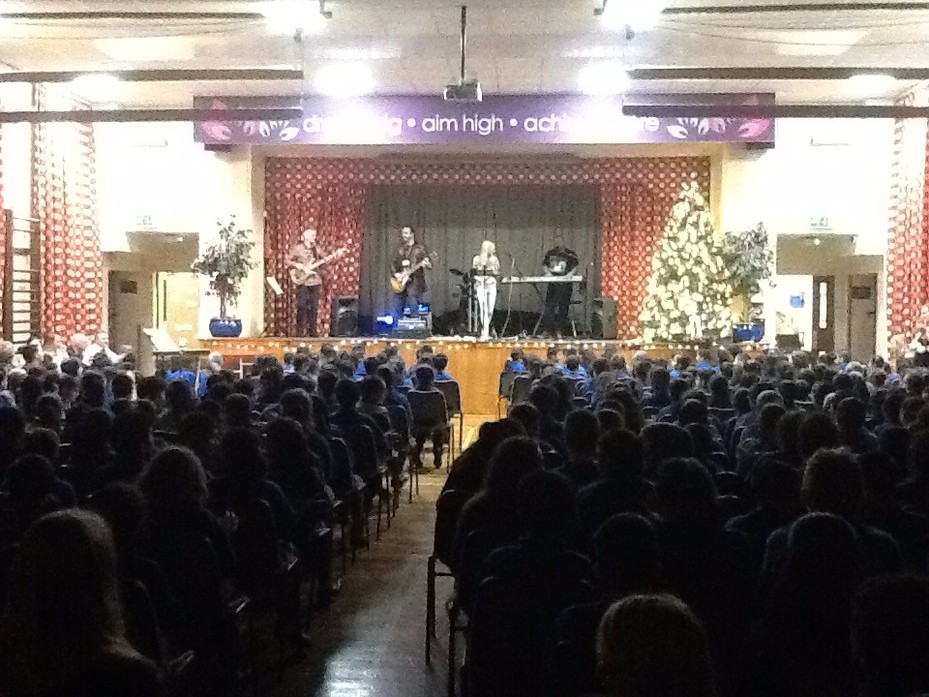 Pedestrian Safety Training - 28th November to 12th December 2016
Our year 3 children will receive pedestrian safety training in November and December. Kirklees Road Safety Team will be in school to tell us all about how to keep safe when crossing the road. During the practical sessions, the children will learn how to identify safe places to cross and will demonstrate that they know how to stop, look, listen and think!
Click on the link below to find out more about road safety in Kirklees.

E-safety - 15th November 2016
Children and young people spend a lot of time online – it can be a great way for them to socialise, explore and have fun. Unfortunately, children do also face risks like cyberbullying or seeing content that's inappropriate.
That's why...
On the 15th November, Tim Pinto, a national expert in e-safety and staying safe online, will be visiting school. Tim will spend the morning working with children in all year groups.
In the afternoon, he will be speaking to parents - and hopefully answering some of your questions. More information will be available nearer the time.
Click here to visit Tim's website
Click here to find out more about e-safety

Well Child Awards - Monday 3rd October 2016
The 2016 WellChild Awards celebrate some of the UK's most inspiring seriously ill children and young people as well as those committed and passionate individuals that go the extra mile in caring for them. This year the awards were held at the Dorchester Hotel on Park Lane in London and one of our pupils, Armaan Aslam, was there to receive an award for the 2016 Most Caring Young Person.
Armaan, who has also been featured on the BBC's Look North programme, helps to care for his brother, Hassan who has a life limiting degenerative condition. Armaan is able to use all Hassan's machines and helps feed him and give him head massages. He also helps his Mum around the house, helps look after his younger sister and has taken part in charity events to raise funds for hospices who have cared for his brothers.
Please click on the link below to find out more about the 2016 WellChild Awards.

The Vikings are Coming! - Thursday 10th November
On Thursday 10th November, Year 4 will be invaded by the Vikings. Gary Waidson from 'Lore and Saga' will be in school to tell us what it was really like to be a Viking.
Click on the image to visit the Viking Visits website.

Author Tom Palmer to open our new library - Friday 11th November 2016
As part of Kirklees Learning Week, the author Tom Palmer, well known for his books about the first world war, rugby and football, will be visiting school. Tom will be opening our new library, talking about some of his characters, signing books and visiting classrooms.
Click on the image below to visit Tom's website.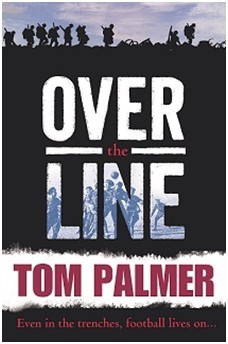 Dedicated dinner lady bags Queen's New Year Honours medal

The British Empire Medal is awarded for meritorious civil or military service worthy of recognition by the Crown. Many of you will know by now that our very own Mrs Clegg was awarded the British Empire Medal in the New Year Honours List. Unfortunately, as a result of an urgent knee operation, Mrs Clegg has only just received her medal.
This is what the Huddersfield Examiner had to say:
A dinner lady who has clocked up 43 years at the same school has been rewarded for services to education.
Gaynor Clegg, who turns 76 in March, still works five days a week at Ravensthorpe Junior School.
She has been awarded the British Empire Medal for her decades of loyalty to the school.
"I couldn't believe it when I got the letter," said Mrs Clegg, who has eight grandchildren and three great-granddaughters.
"I had to keep it quiet and couldn't tell a soul."